JAMES POLINO CELEBRATES 5-YEAR ANNIVERSARY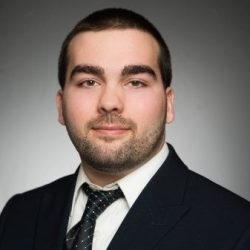 James Polino recently celebrated his 5-year anniversary with CopyPro, Inc. He is a member of the IT Help Desk in the Wilmington office.
James, who joined the CopyPro team in 2017, provides remote support to customers experiencing printing and scanning issues. He also assists on-site technicians and sales representatives with technical issues. James has been working in help desk environments for many years, including the University of North Carolina at Wilmington prior to joining CopyPro.
"We congratulate James on his years of service," states David Saranich. "His commitment to the company and his knowledge of our products and services make him a tremendous asset to the CopyPro IT Team. "
James is A+ certified and holds a degree in Business Administration with a concentration in Information Systems from the University of North Carolina at Wilmington. James lives in Leland NC and when he is not working, he enjoys woodworking, programming and spending time with his fiancé planning their May 8th wedding!
CopyPro, Inc. has been providing the technology and expertise needed to help businesses run smoothly and efficiently since 1971. From copiers and printers to document management and business workflow, the highly trained and experienced staff at CopyPro is committed to providing service excellence to every customer. With locations in Greenville and Wilmington, CopyPro provides service to all of eastern North Carolina.