CopyPro Earns RFG Circle of Excellence Award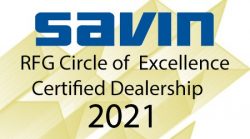 GREENVILLE, NC (February 8, 2021) – CopyPro is proud to announce we have once again earned the RFG Circle of Excellence Certified Dealership award for 2021. This is the company's eighth consecutive year receiving this award, having been included every year of the program's existence.
Ricoh evaluates the approximate 400 dealers providing above and beyond customer support and service in accordance with their firm standards and guidelines and recognize the best with their Circle of Excellence Award. Nationwide, only a handful of Ricoh's dealers earn this esteemed award each year.
"I'm proud of our service technicians," states Richie Creech, Director of Service. "This recognition is validation of CopyPro's commitment to always putting our customers first."
The RFG Circle of Excellence Award is merited to dealers that have demonstrated significant size and capability while serving its clients with reliable commitment. Additionally, a dealer's service technicians must complete a rigorous test to evaluate the breadth of their service experience, qualification, and skills, with only the highest scoring technicians earning Prestige level certification.
"Our highly trained, experienced staff, made up of our technicians, sales team and support staff, are committed to providing excellent customer service each and every day," stated Jason Jones, CopyPro COO. "It is an honor to receive an award which recognizes our dedication and passion."
CopyPro maintains equipment for clients in various industries, including health care, government, education, and all types of small business. This requires CopyPro to not only deliver exceptional service, but also requires a dedicated stewardship of the customers and companies who rely on their office equipment daily to remain productive. CopyPro's dedication to technical training and servicing techniques results in a customer equipment uptime in excess of 95%.
"We would like to thank Ricoh for continuing to challenge and reward advanced service," noted Debra Dennis, Vice President of Support Services. ""We are proud to be listed among the most prestigious dealerships, but more importantly we are grateful to our customers for allowing us to serve them daily."
CopyPro, Inc. has been providing the technology and expertise needed to help businesses run smoothly and efficiently since 1971. From copiers and printers to document management and business workflow, the highly trained and experienced staff at CopyPro is committed to providing service excellence to every customer. With locations in Greenville and Wilmington, CopyPro provides service to all of eastern North Carolina.
###