CopyPro Earns Pro-Tech Service Center Recognition for 25 Consecutive Years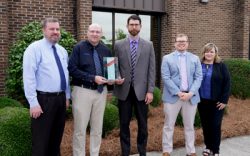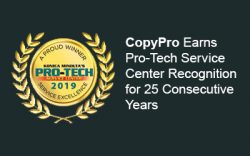 GREENVILLE, NC (June 11, 2020) – CopyPro recently earned the Konica Minolta Pro-Tech Service Award for their dedication and commitment to delivering excellent service for 25 consecutive years.
The Pro-Tech Service Award recognizes Konica Minolta dealers that demonstrate an exceptional commitment to outstanding service of its award-winning imaging products including, but not limited to, copiers, printers and software solutions. It is a symbol of quality, and an assurance of professional, reliable service and maximum performance for your Konica Minolta office products.
"Congratulations to CopyPro, Inc. for this outstanding achievement," said Sam Errigo, Executive Vice President, Sales and Business Development. "The Pro-Tech program is a rigorous process, and Konica Minolta recognizes and appreciates their exceptional commitment to customer support and satisfaction."
"We are proud of our relationship with Konica Minolta and we are delighted to have earned the Pro-Tech Service Award every year since our partnership began. CopyPro prides itself on building long-standing customer partnerships, and reliable services and products at the heart of our offering. This award is a symbol of our quality and commitment to customer service, and I'm proud of our team," says Debra Dennis, VP of Support Services.
CopyPro is dedicated to delivering professional, reliable service and maximum performance for Konica Minolta's award-winning lines of digital imaging products. The Pro-Tech Service standard is difficult to achieve, and the evaluation procedure is exhaustive. To be considered for this Award, each element of their operations was evaluated across a number of key parameters to ensure they are delivering the best customer and product support for their Konica Minolta devices. This includes management skills, inventory control systems, technical expertise, dispatch systems and customer satisfaction ratings.
"The rigid standards set forth by Konica Minolta are the reason this award is such a strong symbol of our competence and proficiency. To once again be chosen as a member of this prestigious group is indeed an honor," states Jason Jones, CopyPro COO. "
CopyPro, Inc. has been providing the technology and expertise needed to help businesses run smoothly and efficiently since 1971. From copiers and printers to document management and business workflow, the highly trained and experienced staff at CopyPro is committed to providing service excellence to every customer. With locations in Greenville and Wilmington, CopyPro provides service to all of eastern North Carolina.