ROGERS CELEBRATES 25 YEARS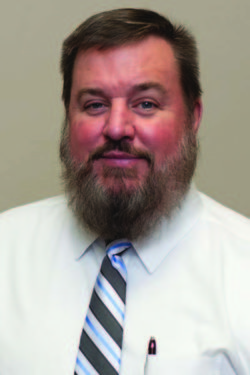 GREENVILLE, N.C. (December 9, 2019) — Bill Rogers, Corporate Trainer, celebrates his 25-year anniversary with CopyPro.
Bill, who began his career with CopyPro in 1994, started as a set-up technician. He later became a field technician covering the Rocky Mount territory, and in 1999 became a trainer. Bill is responsible for installing, connecting and training clients on all CopyPro's products. He is also responsible for providing quality services and solutions for our clients while maintaining a high level of client satisfaction.
"Bill is an integral part of the CopyPro team, sharing his commitment to quality, dedication, and strong work ethic with those around him," said Richie Creech, Director of Service.
In his current role, Bill is responsible for training our Technicians and our Account Managers on our product lines. He works closely with our major accounts on equipment selection as well as the overall functionality of equipment. He also is the Production equipment specialist for CopyPro supporting both our staff and customers on high volume equipment.
"Bill's extensive knowledge of CopyPro's product line and operations, coupled with his longevity with the company, makes him a tremendous asset. He is committed to both the company and the customers we serve, a very rare combination. We are fortunate to have had Bill on our team for 25 years," stated Debra Dennis, Vice President of Support Services.
Bill has recently received the highest honor with Ricoh/Savin by being selected as a 2019 Circle of Excellence Prestige Certified Technician. This achievement means that he is in the top 5% of the 2,258 service engineers across the country.
Bill is from Greenville, and while he was in high school and college he worked at Overton's Supermarket in downtown Greenville. When he's not working, Bill enjoys riding his motorcycle, working on cars and spending time with family and friends.
CopyPro, Inc. has been providing the technology and expertise needed to help businesses run smoothly and efficiently since 1971. From printer and copier networks, document and business workflow, and IT infrastructure, the highly trained and experienced staff at CopyPro is committed to providing service excellence to every customer. With locations in Greenville and Wilmington, CopyPro provides service to all of eastern North Carolina.