COPYPRO WELCOMES BACK ROB CAMPBELL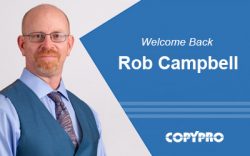 GREENVILLE, NC (February 7, 2019) — CopyPro, Inc. is pleased to announce the return of Rob Campbell as an Account Manager in the Greenville market.
Rob has over 20 years of sales, customer service and business development experience. He previously worked with the CopyPro Pitt County sales team from 2015 to 2017 and served as Ambassador with the Greenville-Pitt County Chamber of Commerce.
"We are excited to welcome Rob back to CopyPro. He has a history of high-level sales success with our company, and we're very optimistic that history is set to repeat itself," stated Jason Jones, CopyPro COO. "We're fortunate to have a person with Rob's experience back on our team."
Rob is a Navy veteran and a graduate of Kentucky Christian University. He will be responsible for managing and servicing client accounts in Greenville and the surrounding areas of Pitt County. Previously from Greenville, Rob currently lives in Clayton and has two children.
CopyPro, Inc. has been providing the technology and expertise needed to help businesses run smoothly and efficiently since 1971. From printer and copier networks, document and business workflow, and IT infrastructure, the highly trained and experienced staff at CopyPro is committed to providing service excellence to every customer. With locations in Greenville and Wilmington, CopyPro provides service to all of eastern North Carolina.