HOWELL CELEBRATES 30 YEARS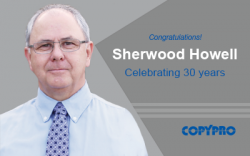 GREENVILLE, N.C. (August 20, 2018) — Sherwood Howell, Production Print Specialist, celebrates 30-year anniversary with CopyPro.
Sherwood, who began his career with CopyPro in 1988 as an entry level field technician, works in the company's corporate office in Greenville. After suffering a knee injury and having surgery in 1998, he spent nine weeks working in the shop setting up new equipment and working on rebuilds. It was shortly after this, that Sherwood was promoted to Shop Supervisor. Since then he has been a Field Service Specialist and a Field Service Inspector.
"Sherwood is an integral part of CopyPro's Service Management Team, sharing his commitment to quality, dedication, and strong work ethic with those around him," said Richie Creech, Director of Service.
He has received many awards and certifications including the Savin Oak Award, two Konica Minolta Silver Seal Awards, and Ricoh's Prestige Certification. Sherwood was CopyPro's Top Technical Producer in 2003, 2004, and 2008, and as a member of the Service Management Team, achieved CopyPro's Outstanding Technical Management award the last two years.
"Sherwood's extensive knowledge of CopyPro's operations and history makes him a tremendous asset to the company. He is committed to both the company and the customers we serve, a very rare combination," stated Jason Jones, COO.
A graduate from Charles B. Aycock High School and Wayne Community College, Sherwood is from, and currently resides in, Goldsboro. He is married, and he and his wife, of almost 40 years, have three sons.
CopyPro, Inc. has been providing the technology and expertise needed to help businesses run smoothly and efficiently since 1971. From printer and copier networks, document and business workflow, and IT infrastructure, the highly trained and experienced staff at CopyPro is committed to providing service excellence to every customer. With locations in Greenville and Wilmington, CopyPro provides service to all of eastern North Carolina.