COPYPRO ANNOUNCES TRIPP PROMOTION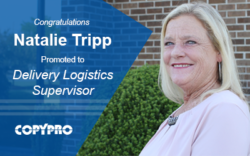 GREENVILLE, N.C. (April 24, 2018) — CopyPro is pleased to announce the promotion of Natalie Tripp to Delivery Logistics Supervisor in our Support Services Department.
Natalie has been with CopyPro for more than 20 years. During her employment tenure, she has held positions of Delivery Coordinator and Delivery/Setup Team Leader.
In her most recent role as Team Leader, Natalie was responsible for executing the operational processes for service delivery which include work order management; systems administration, reporting, and support; service partner on-boarding, compliance, and management; and other activities as assigned. She has also been awarded Employee of the Month and President's Club status.
"We deeply value all of our team members and we are so pleased to watch them meet great challenges. Natalie is an integral part of the success at CopyPro, she has proven to be not only a loyal employee, but a valuable asset to the company," states Debra Dennis, Vice President of Support Services.
Natalie lives in Greenville, North Carolina, is married and has four children and a granddaughter.
CopyPro, Inc. has been providing the technology and expertise needed to help businesses run smoothly and efficiently since 1971. From printer and copier networks, document and business workflow, and IT infrastructure, the highly trained and experienced staff at CopyPro is committed to providing service excellence to every customer. With locations in Greenville and Wilmington, CopyPro provides service to all of eastern North Carolina.