CopyPro Earns Savin/Ricoh Service Excellence Dealership Certification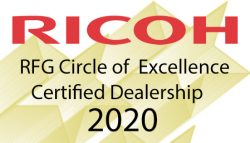 GREENVILLE, NC (December 18, 2017) – CopyPro was recently honored as a Savin/Ricoh Service Excellence Certified Dealership for outstanding service and support for their product line. This designation is a formal recognition of CopyPro's superior service, dedication, and performance.
To receive this degree of excellence, dealers must demonstrate outstanding service and support to its customers, as well as exceed the manufacturers' requirements for service excellence. Dealers are chosen based on high scores in categories such as customer satisfaction and service organization structure.
Savin/Ricoh awarded the CopyPro Service team with their 5th RFG Circle of Excellence award. Ricoh Family Group announced that out of 373 dealers in the Nation only 69 of them earned the Service Excellence Certification.
"I'm proud of our technicians, office staff and sales team for their commitment to quality customer service. It is an honor to receive an award for serving our customers with dedication and passion," stated Jason Jones, CopyPro COO. "We are proud to be listed among the most prestigious dealerships throughout the world."
CopyPro maintains equipment for clients in various industries, including health care, government, non-profit organizations, and all types of small business. This requires CopyPro to not only deliver exceptional service to Ricoh/Savin products, but also requires a dedicated stewardship of the customers and companies who rely on their office equipment daily to remain productive. CopyPro's dedication to technical training and servicing techniques results in a customer equipment uptime in excess of 95%.
"CopyPro earned this certification specifically for our implementation of rigorous training programs, ability to manage productivity and efficiency of our teams, measuring the effectiveness of our Help Desk program and our continued dedication to improving customer satisfaction, noted Debra Dennis, Vice President of Support Services.
CopyPro, Inc. has been providing the technology and expertise needed to help businesses run smoothly and efficiently since 1971. From printer and copier networks, document and business workflow, and IT infrastructure, the highly trained and experienced staff at CopyPro is committed to providing service excellence to every customer. With locations in Greenville and Wilmington, CopyPro provides service to all of eastern North Carolina.