CopyPro's Rogers Earns Savin/Ricoh's "Prestige" Certification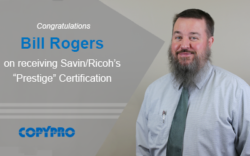 GREENVILLE, NC (December 11, 2017) – CopyPro is proud to announce that Bill Rogers, CopyPro Corporate Trainer, has earned Savin/Ricoh's "Prestige" Certification. This achievement is the highest level of attainment for service engineers within Ricoh's RFG Circle of Excellence program.
The "Prestige" Service Excellence Program has been designed to recognize service engineers that are Professional, Resourceful, Exceptionally Skilled, Tactful, Innovative, Gifted and Experienced. The certification is obtained via successful completion of two levels of progressive on-line, time sensitive testing. The designation of "Prestige" is available to all Ricoh-Savin-Lanier professionals certified by Ricoh at the time of the exam. Those service engineers earning "Prestige" have a knowledge, and skill set, that makes them the "Best of the Best" as part of Ricoh's Service Excellence Program.
"We're proud of Bill's continued commitment to quality customer service and support. To receive this achievement shows his on-going dedication and passion to customer relationships," stated Debra Dennis, Vice President of Support Services.
Over 1,600 technicians nationally participated in the "Prestige" Certification Program. Of those participants only 115 field engineers achieved this distinction, and Bill was among that select group. The "Prestige" Certification puts Bill in the top 6% of those participants, a proud accomplishment.
"This recognition is a powerful symbol of competence and proficiency due to the rigid standards set forth by Ricoh's RFG Circle of Excellence program. We are very proud of Bill and the entire Service Department for continuing to go above and beyond for the company and our customers," noted Jason Jones, CopyPro COO.
CopyPro, Inc. has been providing the technology and expertise needed to help businesses run smoothly and efficiently since 1971. From printer and copier networks, document and business workflow, and IT infrastructure, the highly trained and experienced staff at CopyPro is committed to providing service excellence to every customer. With locations in Greenville and Wilmington, CopyPro provides service to all of eastern North Carolina.