VALESECIA CANNON – DECEMBER EMPLOYEE SPOTLIGHT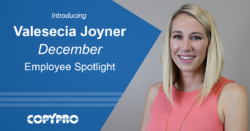 This month we will shine the employee spotlight on Valesecia Joyner.
Valesecia began her tenure with CopyPro in December 2012, and has already accomplished much in her nearly five years as part of the CopyPro team. She was hired as the receptionist and her impeccable customer service skills were immediately recognized. For this reason, she was promoted into our Customer Support Team, placing service and supply calls and working with our technicians in getting to our customers as efficiently as possible.
In 2014, Valesecia was recognized as our Administrative Employee of the Year. She was promoted to her current role, Customer Support Supervisor, where she oversees a team of three employees and leads dispatch efforts for our service team. Valesecia's work ethic and dedication to her role at CopyPro are second to none.
Valesecia lives in Farmville with her husband and two children, where they are involved in community sports programs and attend Marlboro Original FWB Church.