MONTI HILTON – JANUARY EMPLOYEE SPOTLIGHT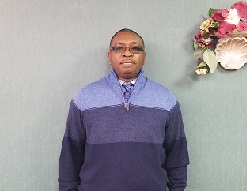 This month we'd like to shine our employee spotlight on Monti M. Hilton. Monti is a Service Technician in Onslow and Pender Counties. He joined CopyPro in April 2013 and is retired from the United States Marine Corps with 26 years of Honorable Service.
Prior to CopyPro Monti was a government contractor with Raytheon Technical Services, and worked as a senior logistics representative for the Osprey V22 Program. He holds an Associate of Applied Science in Aviation Maintenance Management from SIU and a Bachelor's Degree in Kinesiology from Colorado Technical University.
Monti was born in Pinetops, North Carolina and raised in Norwalk, Connecticut. He is married to his wife Rochelle; has three sons, Michael, David and Kenneth; two daughters, Makayla and Jalisa; and one grandson, Jashawn. In his spare time Monti enjoys coaching, umpiring and refereeing High School and recreation sports.